We did it everyone! We made it to the end! If you stuck around and read every single snippet, thank you. Seriously, this is a lot of albums to go through, and I don't expect anyone to listen to them all but I hope there was at least one album that piqued your interested.
Enough talk, here is my top ten for the 2020!
10. Eivør - Segl
Eivør is a Faroese art pop folk singer, songwriter and musician. Her latest album was released in September, and she fully planned on touring the album with the hope that COVID would subside.
Unfortunately, COVID was here to stay, and she was forced to postpone her tour.
With Segl, the album is sung in both English and Faroese. Her songs tend to focus on emotional stories (e.g. love). When COVID subsides, I'm hoping she plans on touring the states. If she does, I'll be first in line.
9. Gavin Harrison & Antoine Fafard -
Chemical Reactions
Gavin Harrison has made my list twice! This time, he teams up with Canadian born, UK based bass player Antoine Fafard.
Chemical Reactions is a blend of progressive rock, jazz fusion and classical. Harrison's drumming is subtle, beautiful, and highly technical. His drumming never ceases to amaze me, and it truly shines on this album.
8. Ayreon - Transitus
Ayreon is the brainchild of Arjen Anthony Lucassen. All Ayreon albums are rock operas that assemble various singers from the rock and metal world.
For the longest time, I thought the lyrics for Ayreon albums were so cheesy and lacked subtlety. I later realized that this is exactly how lyrics are for musicals, operas, rock operas, etc. Once you get past the cheesy lyrics, the music underneath is an amazing overdose of progressive metal.
7. WagakkiBand - Tokyo Singing
I discovered WagakkiBand purely because of the free tickets I had to use for the Ticketbastard settlement. Their blend of Japanese folk music with rock and/or roll ended up being quite a unique live experience. It was imbued with so much fun and energy that I couldn't help but leave with a smile on my face.
Since then, they've released a couple albums that I thought were just OK. They've won me back over with Tokyo Singing however. This album is just so damn fun and also has my #5 song of 2020, Ignite.
6. Protest the Hero - Palimpsest
Protest the Hero is a Canadian progressive metal band. The album was delayed due to Rody Walker damagings his vocal chords. He has taken the time to heal his voice, and he came back stronger than ever.
What's also important to note here is that the lyrical content is inspired by the rise of the MAGA cult in America. Walker wanted to explore both the positive and negative aspects of what is deemed as greatness when it comes to America.
5. Oceans of Slumber - Oceans of Slumber
Oceans of Slumber is a progressive death doom metal band out of Texas. The true star here is Cammie Gilbert and her fantastic vocals.
While the album doesn't contain a heavy hitter song like The Banished Heart's title track, overall this feels like a better and more consistent album.
I still think the have an album in their future that will be an absolute masterpiece. I can't wait to see where this band goes.
4. Imperial Triumphant - Alphaville
When I heard this album, I noted that it sounds like Mr. Bungle mixed with Behold...The Arctopus. What's interesting is that members of both the aforementioned bands are involved in producing the album.
Imperial Triumphant plays a brand of experimental avant garde black / death metal, and it is strange and out there. Truly for the adventurous, check this one out if you want to challenge your ears.
3. Kvelertak - Splid
Kvelertak is a band from Norway that mixes black metal, punk, and rock and/or roll. This is the first album with a new singer, as well as the first album that has a couple songs sung in English.
Their new singer sounds just like the previous one, and thankfully it feels like nothing has changed with this band. If anything, it's almost like they are re-energized with the lineup change. Splid is one of the most fun albums in 2020, and also has my #2 song of the year, Fanden ta dette hull!
2. Haken - Virus
Haken's very relevantly titled Virus is the direct sequel to their previous album, Vector. I found Vector to be somewhat of a let down. It was short (by prog metal standards) and just felt incomplete. Virus is a big improvement, and even makes the previous album better, making it feel more complete.
Haken's brand of prog mixes both classic prog metal influences like Dream Theater, with djenty nu-prog. This happens to be their heaviest album yet (that album opener!) and one of their best.
1. Brothers of Metal - Emblas Saga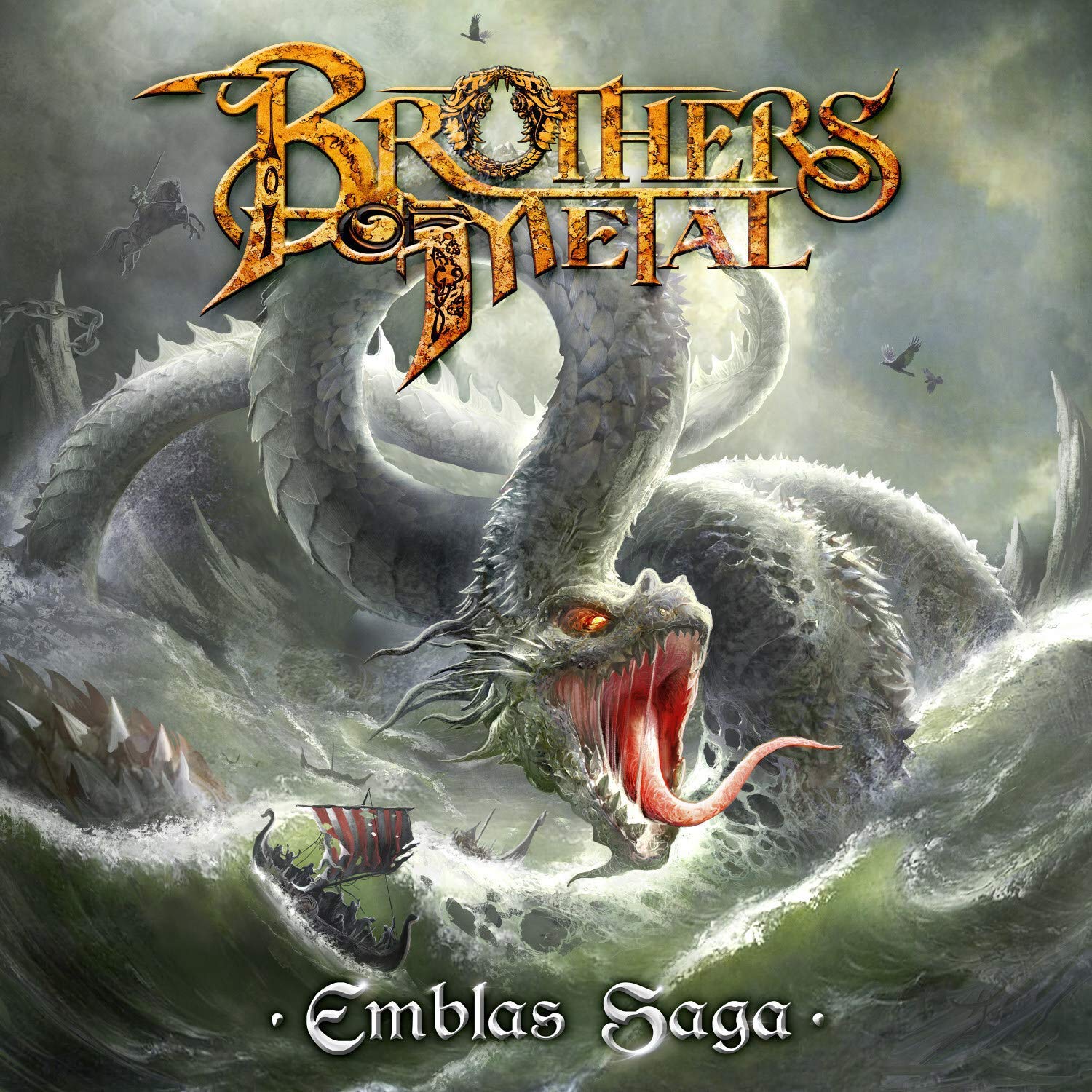 I fully realize that my #2 album is technically a better album, and in any other year it would likely take my top spot. But, an album called Virus in 2020 is not exactly the best form of escapism.
Enter Brothers of Metal, a power metal band hailing from Sweden. They also bring in symphonic and folk elements to add some spice to that power metal sound. They are made up of three vocalists, three guitarists, a bass player and a drummer. Missing are the progressive, avant garde, brutal death metal that is usually in my rolodex of genres. Emblas Saga also saw a January 10 release date, and albums released this early in the year are often forgotten by the time top album lists are being compiled. With everything stacked against this album, it is astounding that this album would be at the top of my list, as well as containing my number one song of 2020, One.
Every song on here is an absolute banger, weaving between epic power metal, anthemic viking chants, and even borderline pop. The two main vocalists are a perfect counterbalance, while the third vocalist is more of a narrator than a singer. The lyrics are cheesy and at times crosses over into being straight up laughable. While that may seem like a negative, it's an element of pure fun and so cheeseball that it never fails to put a smile on my face. And then there's the 7 minute title track, which also acts as the centerpiece of the album.
I clearly remember my first time listening to this in January of this year. I was playing Dark Souls (natch) and grinding to level up. I put this album on and the epic music truly made me feel like I could easily take on anything in the game (spoiler alert, it did not make me a better player). I listened to Emblas Saga the very next day, and the next and so on. I loved it so much I bought a physical copy to support the band and also in hopes that it would help in some small way to get them to tour out here. I cracked open that shrinkwrap, placed the CD in my ancient Sony discman, and jammed the album HARD. As soon as the album was over, I started it from the beginning immediately for a second spin. I even considered a third spin, but it was late at night and I ended up being a responsible adult and went to bed. I was afraid that binging on the album so much would have the same effect as hearing the same song on the radio 100 times a day. Often, this causes people to unfairly hate artists simply for being overplayed. I set the album down for a weeks and came back to it, and thankfully, the album was still just as good.
It has now been a full calendar year since the release of this album. Despite the hundreds of other albums vying for my attention, Emblas Saga has absolutely held up and remained in constant rotation throughout it all. Quite simply, the album is overflowing with catchy hooks that just kept me coming back for more. The pure fantasy (e.g. cheese) and escapism that the album provided helped soften the blow of this jacked up year. I will truly be returning to Emblas Saga for years to come, and it easily takes my number one spot for 2020.